Low Country Calling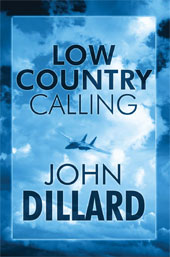 Low Country Calling is my latest work. It is a Christian Fiction Action Romance. David Jones has dreamed of being a fighter pilot since he was a child. Born into a Christian home in Charleston, SC. David has been brought up in a church environment. Being saved in his teens David watches the example his father sets for him in his life as an elder in their church and a member of the business community as a banker. After graduation David is off to OCS (Officer Cadet School) in Quantico, Virginia, which is the first stop in his formal training to become a Naval Aviator.
Once at OCS he meets Joe Davis who will become his lifetime friend and then comes face to face with his life mate. David while spending the day with Joe on one of Virginia's beaches soon comes face to face with Alice Banks who is taking an afternoon stroll. After their introduction they spend a magical three-hour walk along the beach and soon know that God alone has preordained their meeting. Planning to meet the next evening for dinner they part ways only to realize the magic that has occurred between them. In a moment of sheer delight, Alice decides to surprise David by showing up at his church with a picnic basket lunch. Come with them as they travel through the national forest to a waterfall where they share the magic of their first kiss and their fondness for each other.
David and Alice continue their courtship as he completes his formal training to be a naval aviator. Graduating from OCS, he then goes to Basic and on to Aviators School. Consistently at the head of his class, he gains admittance to the Naval Aviator school in Pensacola, Florida where he trains to fly the F-18, a supersonic jet manned by a pilot and a RIO (Radio Intercept Officer). After successful completion of his training he puts in and receives an assignment to fly F-18's from the Aircraft Carrier Roosevelt, which is stationed in the Mediterranean Sea and is sent there to help quell the unrest in the Middle East.
Come alongside David as he and his RIO fly into harms way. Being a Marine, David is indeed the tip of the sword and as a Naval Aviator is its sharpest point. Called into active duty at a time of heated tensions they routinely patrol the skies in an effort to protect and provide support for ground troops. Flying into enemy air space they are faced with life endangering situations as they strive to do their part to make the world safe for democracy. Get inside the cockpit of an F-18 as it exceeds Mach 2 with full afterburners trying to evade the deadly "deedle" warning light as a SAM (Surface to Air Missile) is fired at them exceeding speeds of Mach 3. Witness the death defying flight as David attempts an evasive maneuver that has never before been attempted in an effort to avoid the SAM and certain death.
David and Alice continue their romance despite the thousands of miles that separate them and the danger that faces him each and every day. Although David has always sensed God's call to be a fighter pilot, he realizes that God is calling him to do much more. Be with David in those restless moments as he prays to find out exactly what God wants him to do and where. David strives to figure out this call on his life and discovers that God is calling him into full time Christian service. Faced with the realities of God's hand on his life David strives to fulfill the fruit of the spirit that God has given him. Be with David and Alice as they discover what this call means to their lives as they begin their lives together as man and wife.
Low County Calling is a call to the low country of Charleston South Carolina and is also a call to serve as a pastor there. Discover who you are in Christ as you enjoy the thrills of F-18's at full afterburner and the romance of your life, and the way that God intended it to be.