Charleston Dawn
by John Dillard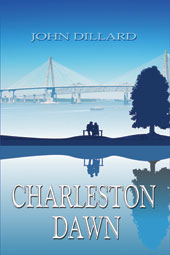 Order Charleston Dawn from
One of These Fine Retailers:

Amazon.com
Barnes And Noble
Books A Million
Borders Stores
Powell's Books
Walden Books
Buy.com
Publish America
The Gwinnett Daily Post writes
about John Dillard
and Charleston Dawn
John Dillard's Dedication Page
for Charleston Dawn
Christian Fiction Romance Charleston Dawn is set in the city of Charleston, South Carolina. The book is a murder mystery and relates to how its characters find God amidst real life issues. It speaks boldly about the Christian life and how God wants us to live.
Combining Charleston's history about everything from homes to lighthouses, chase scenes, a hurricane and a tornado; Charleston Dawn keeps its reader on the edge of their seat as they turn its pages. Learn about the uniqueness of the city's past and the story's characters faith in God abounding despite and amidst life's trials and difficulties. Charleston Dawn combines ambiance, action and is completed by a spiritually uplifting revival offered by God's grace at its story's end.
I pray that I have edified the Body of Christ in this writing and that through it that my family and others are brought closer to our Most High God!
Setting the Scene
Amidst the history and ambiance of Charleston, South Carolina an evil presence lurks about her streets. Mary, a single mom, lives in the historic district of the city and has an active real estate business. As a member of the Charleston Historical & Preservation Society, Mary helps preserve the city's history and charm for future generations. As Mary struggles to discover her true self and the person God wants her to be, she meets Joseph who helps her discover God clearer than she ever has. Living a quiet and comfortable life with her son, Mary discovers how quickly all that can be taken away.
Joseph, having lost his wife to cancer several years ago, moves to the Charleston area to start a new life and to take a position as its harbormaster. As a past Naval Officer, Joseph brings to his work and his life his passion for excellence.
Joseph and his daughter have a good life but Joseph longs for much more. Watch Joseph as he steps out on faith and braves through his fears seeking God's will for his life.
While pursuing their respective lives, Joseph and Mary meet at a fundraiser and are immediately drawn towards one another. Fate, so often cruel, plays an ill-timed trick separating them and the peace and love that they had quickly found in each other. Just as they begin their search into what their lives might jointly be, Mary is abducted. Joseph finds on his quest to return her safely home, a God who indeed is the God of second chances.
While a human evil continues to ravage the city, Mother Nature joins in when Hurricane Janet ravages Charleston's coastline. Come alongside Detective Stone as he strives to resolve his most challenging case ever. Watch the populace of Charleston as they witness the miracle of a new day and the gift of a fresh start that God gives each of us. Be with Joseph & Mary both as they pray for forgiveness and seek God's will for their lives.
Finding peace and pursuing truth, Joseph and Mary discover their innermost fears and come to learn who they are truly made to be. With Joseph working alongside Detective Stone, they set out to save Mary and to bring her home alive. They soon find themselves up against a serial killer who sends a ransom note with a deadly time-line. Watch as the killer seemingly toys with Detective Stone as he diligently strives to gain Mary's freedom and therefore her life.
Join Detective Stone as the killer leads them first in one direction and then another. Complete with high drama on he seas and on the ground, Mary's fate hangs delicately in the balance. Determined to set Mary free, Joseph returns to his Naval training and assist in the investigation. Mary afraid and alone comes to terms with what may very well be her final moments. Seeing through the adversity, Joseph and Mary find forgiveness, His Peace, and the one true God, our Lord Jesus Christ.
Story Highlights
Watch the magic as Joseph providentially meets Mary for the first time. Walk with them along the Battery in Charleston, South Carolina admiring the moonlight harbor and the grace that fills their first meeting. Come along on their first date as Joseph and Mary learn that God is leading them forward together.
Discover God as Joseph and Mary strive to fulfill their destiny amidst her abduction. Follow along as Mary's captor leads Detective Stone and Joseph to chases both on the open seas and the ground. Watch as Mary leans into her fears and ultimately into the power of God during her darkest moments finding Him always present, always willing, always protecting.
Facing certain death, watch after she is kidnapped by a known serial killer who holds her for ransom. Fearing for her very life, Mary cries out to God discovering who she truly is meant to be. Watch as Mary seeks a deeper relationship with God and finds true forgiveness.
Walk along side Joseph as he finds Mary, the love of his life, and then sees her snatched away from him when there appears so much for them to live for. Seeking guidance for his life, Joseph prays his deepest fears and learns what God's true will for his life might be. Joseph returns to the skills he learned while in the Navy and uses them to search for Mary and return her safely home before it is too late.
Detective Stone strives to solve the biggest case of his career. Learning to see life as it truly is, Detective Stone begins to unravel what is most important in his life. Frustrated time and again by an opponent that always seems to be one step ahead, Detective Stone steadies himself as he relentlessly pursues justice and Mary's freedom.
Watch as the citizenry of Charleston as they see the promise of God revealed right before their eyes. God speaks to each and every heart what he plans for every Believer. Find Joseph and Mary at their best as they face the worst of life and extraordinary circumstances that threaten their very lives.
As you stroll through the lives of Joseph and Mary, you will find the true beauty of a Creator who knows the number of the very hairs on your head. You will see a God who's redemption and saving grace are made available to all those who seek and cry out His name. Find Salvation and in doing so a promise of heaven and being with God forever!